Whether you are picking a bonus or want to choose your next operator, there are some specific features you should know about first, and having a second opinion, especially ones from experts, can be immensely helpful. Thankfully, we have specialised in examining how an operator performs and what makes the best gaming companies just that. As reviewers, we know what's important to you, and it's these aspects we focus on.
Our experts also spend time on subtler but equally important features that influence how much fun you have at your chosen card room, betting agency or casino. In other words, our reviews help you find out more about a company's most treasured features, such as:
Trove of gaming options
Variety of promotions
Banking conditions
Payout practices
Software compatibility
Reputation & licensing
It's quite easy and simple to benefit from the information we have to offer throughout our dedicated reviews.
How Do We Review Products?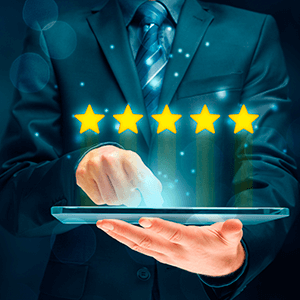 At OnlineGamblingExpert, we cover quite a bit of gaming products. Our experts are committed and they have vast knowledge and deep understanding of the industry. Plus, we readily seek to exchange information internally in order to ensure that what you read is a polished product that is truthful and helpful.
The reviews we offer are thorough and carefully composed by our team of gambling or betting experts who are extremely well-versed in the segment they examine. We have our resident poker professionals who, apart from being accomplished players, approach card rooms methodically and with profound understanding which translates into their analyses.
What do we check for?
Reputation – We hold this to be an essential part of any operator, cardroom or betting shop.
Variety of the offer – Having more diverse options to pick from is appreciated by customers and shows the operator are committed in the long run.
The banking facilities – Customers insist on expedient banking and this is something we scrutinize thoroughly.
Mobile compatibility – It's not enough to be able to load the website on your phone. A truly reputable company will take pains to make it work flawlessly.
Licensing & External Audits – How often a company is audited is a testimony to how prepared it is to be open with customers. Licensing is another important sign that demonstrates the commitment on the part of the company.
Naturally, depending on the company we review, there will be specific features to look into. Bookmakers will be checked for the house edge whereas for casinos we'll examine things such as their payout practices, reputation, how customer queries are handled, and more. Regardless of what we review, we stick to a set of guiding principles:
Assuming an honest approach
Keeping the reviews updated
Consult with other experts who are also familiar with the subject
Allocate resources to examine specific issues
Deliver a final product that is accurate and trustworthy
Similarly, we will look into card rooms and how they distribute and pay their customers. While auditing their servers' security, for example, is not our explicit metier, we are familiar with online security protocol and standards and can deliver a reliable opinion about that.
Ultimately, we are a solid team of well-rounded experts. To top things off, we have established intelligent internal reviewing practices so that everything, from typing the first letter to preparing the final version is carried out cohesively and flawlessly. Having streamlined our process internally, we can allocate even more time ensuring the reliability of what we have to offer you.
What Companies Do We Review?
Unlike many other reviewing services, we strive to deliver accurate, on-point, and most importantly – diverse & informative texts. Depending on the product we have to work with, we will always approach the subject having in mind the best practices in the respective field.
Working with so many different products has given our reviewers a unique perspective, questioning everything and looking into details that they would've otherwise missed if it wasn't for their decades of experience within the gambling industry.
As a result, we get to cover a plethora of companies, including:
Sports Bookmakers
iGaming Platforms (casinos)
Card Rooms
Multi-purpose Facilities
The ones above are by far the most common type of platforms, but in order to provide you with an even greater coverage of the whole gaming sector, our team also comprises of seasoned experts that are proficient in other smaller segments of the industry:
Daily Fantasy Sports
Esports Betting
Bingo
Horse Racing Betting
Other Skill Games
Markets are growing richer by the day with new & interesting operators entering them frequently. We have seen a lot of flagship companies emerge in the past few years that live to tell the story. We have even reviewed them, with all of our predictions about them penning out to be spot on.
How do we review individual platforms?
| Game | Process |
| --- | --- |
| Poker | Quality of the software and compatibility with iOS, Android, Mac, Windows, and moreAvailable tournaments & game formatsAvailable stakes/buy-insPlayer base and availability in specific regions |
| Sports Betting: | The software they use and compatibility with other devicesBonuses & house edgeAvailable promotions and marketsQuality of the oddsPossibility to bet on Live GamesStake limits |
| Casino: | The merit of the platform and how compatible it is with mobile devices and different desktop platformsAvailability of live studios and gamesBonuses and the specific wagering requirementsCustomer SupportPayout practices & table limitsVariety of the gaming products on offerBonus contributionsLicensing & reputation |
| Multi-purpose platforms: | Thorough examination of the entire offer of the platform, from sports betting through the mobile & live casino and available poker facilities. |
In many respects, the areas overlap. The variety and specificity of markets make reviewing certain products a more demanding process, but it's nevertheless one that we undertake well-prepared and willing to bring to a helpful end for you.
Reviewing Step by Step
In the spirit of transparency, we want to quickly and clearly, walk you through our reviewing process. As a trusted reviewing service, we have dedicated accounts set up at each of the site that we investigate. This way we ensure that we are treated as customers rather than reviewers and perhaps receive some favoritism to sway our verdict. Instead, we want to experience exactly how the players will be treated, and therefore better able to provide you with the truest insight into the operator.
On occasion, we might identify ourselves as reviewers looking for additional information in order to get an even more in-depth coverage of the site from all different angles.
Looking into an Operator's Specifics
Our resources and years of experience have led us to accumulate a solid trove of knowledge which is full of specific highlights of a company's important historic milestones. Put simply, we already know a lot about operators that have been around for at least a few months.
First, we check their reputation:
Our experts spend time reviewing their reputation and checking with the relevant authorities for the authenticity of a license, if a company owns one. After we are content, we can reliably proceed to the next step.
Fund or open an account
Depending on whether or not we already have an account at the target site, we open or add funds to the existing account to allow us to experience the company first hand. Admittedly, we don't allocate too much funds at first, but just enough to complete the bonus terms and gain access to gaming lobbies and observe the gameplay, and admittedly, participate ourselves.
Dive into actual gameplay
As big gamers ourselves, as much as we would like to play test every single game on offer, there's simply too much to cover and the time would be better spent on investigating important features such as:
Payout practices
Game developers
Wagering/Table limits
Applicable promotions
Examining the live lobby (if applicable)
Naturally, the longer you spend at a casino, the better and deeper your understanding of it will be, especially when it comes to the gaming portfolio. In light of this, we often combine the knowledge of our experts to cover a broad variety of products in great detail.
Withdrawal policies
Having a look at how a withdrawal is supposed to work just doesn't cut it for us. We test the withdrawals ourselves. Naturally, we cannot examine all 30 suggested banking options, but we make sure to keep track of those that we have used ourselves.
We will then introduce you to a very carefully curated breakdown of what the advertised processing times and limits are. If there is anything particular to note about the terms & conditions, you can rest assured that we will reflect this in our review.
Customer support
Even if we don't experience any particular issue throughout the reviewing process (which is good news), we will always create some made-up issues to test the customer support with. This could be something related to perceived ambiguity in the company's offer or just us not really sure about a specific feature. Rest assured that we do have a habit of cross-referencing everything that is offered as information to us.
The upshot of all our efforts is a well-balanced review that delivers the facts in an unbiased manner. We stick to what is objectively true and caution against certain aspects that may need further investigation or that are still pending.
Objectivity is key in all our reviews and we provide you with a well-rounded opinion on the big names in the industry.
Reviewing the Mobile Platform
Becoming mobile friendly in this industry is a must, and we have seen casinos, sports bookmakers and countless cardrooms try and adapt. Many have succeeded and are still around. Even a greater crop of fresh operators are mobile-first today.
Testing compatibility with mobile devices does take some effort, however, our experts are fully prepared for it. We generally look into two main platforms: iOS and Android.
Of course, there are other software solutions, but they are mostly compatible (similar to Windows), and we can't quite think off the top of our heads about any device other than iOS that has had trouble loading up a company. Mac may also experience some problems, that's why we make sure to double check.
When looking for mobile compatibility we check for several underlying factors:
Can the mobile website offer everything the desktop one can?
Is there a dedicated native app?
Are there any aspects that run not as well on mobile?
Can we use banking and contact support easily?
Are there promotions that are exclusive to mobile users?
All of these are important aspects of the mobile experience and we do our best to provide you with a detailed roadmap that offers to guide you through all of them in detail.
For your comfort, when talking mobile, you can pick a dedicated mobile review, which examines the company specifically from the standpoint of a mobile user rather than trying to provide you with a check list to use as a guidance.
Our Seal of Approval
At OnlineGamblingExpert we have decided to take our process to the next level. We have chosen to develop our offer even further, and as such the reviewing team has put their heads together to create an underlying standard for excellency in the industry.
As a result, our Seal of Approval (SoA) is now live. It's a badge of honour that we issue in the cases when we believe that an operator, bookmaker, a card room, or any other company that accepts wagers from customers have created a safe, reliable and enjoyable environment.
Our SoA is not awarded easily, but it stands to show that the company has managed to abide by the best practices in the industry and fulfil the criteria established by the legal bodies that oversee any specific segment. However, we don't hesitate to strip down this privilege if we suspect foul play.
Banking – It Matters Big Time
There are dozens of features that we use as gauges of how reliable a company is, and the banking facilities are one such feature. We already touched on them above, but now we'll go a little more in depth.
Banking methods may fetch you a specific bonus amount (we have seen bonuses worth between 15%-35% if you choose to deposit with a certain method)
Specific fees may apply if you are in a certain region of the world
Some payment methods may not be available to certain jurisdictions
We rely on our in-house experts that includes members in parts of the world, allowing us unique insight into individual markets.
This practice provides us with the rare opportunity to juxtapose different offerings and even let you know how the company treats its customers in general. Yes, at OnlineGamblingExpert we transcend national borders to bring you an authentic and reliable look at the company you are considering to play with.
The Importance of Choosing a Good Company
Picking a casino or card room that does well by its customers comes with self-evident upsides. You will never have to worry about any outstanding payment not being honoured, for example.
Reputation will be a reliant guideline and you can rest assured that picking a proper casino will mean minimizing any risk that joining a bookmaker or a live casino might carry. Some of the outright benefits of choosing a proper bookmaker include, but are not limited to:
Safety of all banking transactions
Third-parties that intervene in the case of dispute
Proper encryption of the website for additional safety & security
Fairly priced odds and return-to-player-rates
A rich portfolio including gaming and betting products
We understand how crucial these aspects of a company are to your gameplay, so you will always see us go the extra distance to make sure that everything is as advertised.
This is another important aspect of our reviews – we always objectively put down the information available after double-checking with public forums and playing ourselves, so what you read is the opinion of people who have the hands-on experience, but also knowledge accumulated over years to back their claims.
The Licenses & Reputation
Throughout our reviews, we go in some detail to explain what licensing means for your choice. It's simple to understand licensing. When it comes to casinos, it means that the payout practices have been checked, for example.
There are many specific regulatory bodies that deal with establishing not only the credentials of companies, but also whether these companies uphold the practices after they have been granted a license. We can think of quite a few such regulators ourselves, including:
iTech Labs
ESSA
eCORGA
UK Gambling Commission
The Malta Gaming Authority
Naturally, there are many more. Some of these are regulators & licensing authorities whilst others focus purely on ensuring that the house edge of the bookmaker is as advertised or that the RNG in casinos really relate to the specified rates.
Conclusion
Working on a review is a fun process. It allows us to explore the entire offer that a gaming company has decided to put together. It takes hours of meticulous research, but putting down the final product is well worth it, particularly when we know that it's a helpful guidance for your future gaming or betting endeavours. Now that the big questions of the industry have been tackled, you are prepared to enjoy gaming and betting's many upsides.